Bachelor of Science in Biochemistry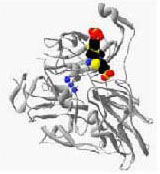 The Bachelor of Sciences in Biochemistry is an interdisciplinary program that includes chemistry, biology, biomedical engineering, physics, and computer sciences. The program focuses on:
Chemical and three dimensional structures of biological molecules
Biological molecular interactions
Cellular synthesis and degradation of biological molecules
Cellular energy conservation and use
Mechanisms to control and organize biological molecules for cellular activities
Mechanisms of storage, transmission, and expression of genetic information
Students in the Biochemistry program will learn theoretical fundamentals and laboratory skills necessary to understand the life processes. Students will be exposed to current biotechnology and biologic topics: genetic engineering, molecular biology, enzymology, and microbiology.
The program will prepare students for their professional fields such as medicine, medical technology, patent law, biopharmaceuticals, chemical industries, advanced school teaching, and health research.
Associate Professor Edgardo Farinas talks about "Protein Engineering: Evolution in Test Tube" view more..
http://www.youtube.com/watch?v=01_X_s-ih3Y&feature=channel.

How Can I Learn More?