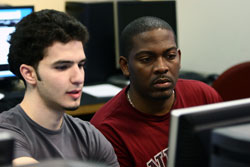 Welcome to the Chemistry & Environmental Science Dept.
Learning/Tutoring Center
The Center is located in the Central King building(CKB) on the ground floor room G12. We are open Monday-Friday from 10:00am-6:00pm. 
Professor Balasubramanian runs the center and can be reached at balasubr@njit.edu
The subjects tutored are Chemistry 121, 122, 125 and 126.
Please note: Organic Chemistry tutoring is available upon request.