Alexei Khalizov (CES) and Gennady Gor (CME) received a $620k grant from the National Science Foundation (NSF) to improve ways of describing soot nanoparticles in atmospheric models. Soot is a potent climate forcer with a warming contribution as much as 1/3 of that from carbon dioxide. However, unlike with carbon dioxide, for soot this contribution is known with a large uncertainty. The project "A Multiscale Model for Restructuring of Atmospheric Soot Particles" will help to reduce the uncertainty by improving the ability of models to describe the evolution of soot particles in the atmosphere and allowing to produce more accurate predictions of climate warming caused by soot. Notably, this collaborative project was initiated with support from the NJIT Faculty SEED award. It is also a natural extension of Alexei's previous NSF project "Kinetics and Mechanism of Restructuring of Atmospheric Soot and Associated Impact on Light Absorption".
Among the many things that made the grant application successful is the research contributions from Alexei's and Gennady's students. One of them, Dr. Ogochukwu Enekwizu (CME), is now a postdoctoral researcher at Brookhaven National Laboratory. She contributed to both experimental and computational aspects of preliminary work. Ali Hasani (CES), who is about to defend his PhD thesis, was responsible for the experimental aspects of the project. Ella Ivanova, a PhD student in CME, has been carrying out the theoretical and computational work. An undergraduate student, Egor Demidov is a CME senior and a twice Provost Summer Research awardee, sees his near future as PhD student. Divjyot Singh, a math and physics double major and a twice Provost Summer Research awardee, contributed to the computational part of the project. He graduated last year and joined the Los Alamos National Laboratory as a post-baccalaureate researcher. 
---
NJIT Researchers Unlock a New Method for Testing Protein-Based Drugs
Written by: Jesse Jenkins
Published: Monday, September 26, 2022
NJIT researchers Yongling Ai (left) and Hao Chen (right) say a newly developed lab technique could spark a "paradigm shift" in biopharmaceuticals testing, promising to speed up drug discovery and development of therapeutic proteins and vaccines.
Please click here: https://news.njit.edu/njit-researchers-unlock-new-method-testing-protein...
---
NJIT Forensic Anthropologist, Sara Zapico Investigates New Leads to Identify the Nameless
Ever since police ended the 40-year hunt for the Golden State Killer and identified Joseph DeAngelo by uploading crime scene DNA to a popular genealogy website in 2018, advances in DNA forensics have sparked an explosion in once-unsolvable criminal cold cases being resurrected and cracked after a generation. Yet, for the missing and unidentified, it is another story — often referred to as the "nation's silent mass disaster." Read more
---
New Jersey Association of Forensic Scientists (NJAFS) Scholarship Award
Congratulations to Mira Sapozhnikov for being awarded the New Jersey Association of Forensic Scientists (NJAFS) scholarship award. Mira was presented with the award at the NJAFS annual seminar in Lambertville, NJ on Friday, May 6th for her academic achievement in the Forensic Science program at NJIT.  This is the second year in a row that an NJIT forensic science student has won this award. Congratulations Mira!
---
The Department of Chemistry will host a Forensic Photography Workshop
Registration for the workshop can be found here.
Forensic Photography Workshop flyer
---
NJIT Co-Hosts Second Annual Forensic Science Summit for the Criminal Defense Bar
Written by: Jesse Jenkins
Published: Tuesday, March 1, 2022
The topic of racial and cognitive bias headlines one of NJ's biggest forensic science conferences for defense attorneys this month.
On March 22-23, New Jersey's forensic and legal professionals will convene again at the 2022 Forensic Science Summit for the Criminal Defense Bar to discuss the latest advances in forensic sience and its increasing influence in today's courtrooms. 
The summit is considered among the leading annual forensic science conferences for New Jersey's defense attorneys and investigators, promising a variety of talks from experts and collaborative training workshops with forensic scientists, law enforcement, legal professionals and students from across the state. 
For the second consecutive year, the event will be co-hosted by the Association of Criminal Defense Lawyers of New Jersey (ACDL-NJ), New Jersey State Office of the Public Defender (NJOPD), and New Jersey Institute of Technology (NJIT), which launched New Jersey's first forensic science undergraduate degree program in 2018.
"After the success of the inaugural summit, our aim again this year is to continue highlighting the importance of competency in the forensic sciences for members of the defense bar," said NJIT's Forensic Science Program Director David Fisher. "Through the great partnership formed between NJIT's forensic science program, the NJOPD and ACDL-NJ, we're looking forward to another meaningful conference for defense attorneys seeking vital education about the ever-increasing science involved in their cases."
The summit's keynote will be delivered by Janis Puracal, executive director of the nonprofit organization Forensic Justice Project. The nonprofit is aimed at preventing and correcting wrongful convictions due to false or misleading forensic evidence, which has been a contributing factor in 24% of all wrongful convictions nationally, according to the National Registry of Exonerations.
Puracal is scheduled to give her talk on implicit racial bias in forensic science.
"The presumption of guilt facing Black and brown people is very real," says Puracal, who started the Forensic Justice Project after her brother was wrongfully convicted and later exonerated. "We want to think that forensic science will save us, but it doesn't work that way. Implicit racial bias can impact every aspect of the system, even the forensics. We can, and should, be doing much better than we are right now."  
This year's summit will feature a number of other expert talks on emerging issues from the field of digital forensics, including discussion over geofence warrants used by law enforcement to access anonymized data from devices within targeted geographic regions. 
The multi-day event's diverse discussions also include presentations by former Somerset County investigator and NJIT Forensic Science Professor of Practice Kevin Parmelee, on recent advances and challenges of fingerprint evidence submitted in court, as well as talks covering the latest in underwater crime scene investigation techniques by professional diver and founder of the Northeast Public Safety Divers, Timothy Andro.
The summit will be free to students and will be held via Zoom webcast. 
For further event details, visit: http://www.acdlnj.org
To register, email Judith Smith at judith.smith@opd.nj.gov.
---
Kevin Belfield, dean of NJIT's College of Science and Liberal Arts, has been named fellow of the Royal Society of Chemistry (RSC).
RSC is the world's oldest professional society of chemists, founded in 1841, and has grown to over 54,000 members around the world. The society awards fellow status to distinguished chemists that have served a minimum of five years in a senior position and have made an outstanding contribution to the advancement of the chemical sciences.
"It's humbling to even be considered for this recognition, yet alone receive it, particularly considering the distinguished chemists and Nobel Laureates that currently are fellows," said Belfield. "These include David MacMillan, M. Stanley Whittingham and Sir Gregory Winter, winners of the Nobel Prize in Chemistry in 2021, 2019 and 2018, respectively. … It's a thrill to be in such company."
Highlighting a decorated research career spanning more than 30 years, Belfield is perhaps most noted as a trailblazer in the field of photochemistry — specifically creating two-photon (light-activated) processes to nondestructively image and cause optical changes in three dimensions within materials. His pioneering work has led to breakthroughs in the development of rewritable 3D optical data storage, as well as two-photon absorbing materials that are now commonly used in microfabrication and 3D printing today.
Belfield is also widely recognized in his field for his research developing novel fluorescence contrast agents, useful in bioimaging for tracking cancer progression and wound healing. Such work is also now being harnessed to study processes associated with early-stage Alzheimer's disease.
Belfield has published over 250 peer-reviewed journal articles, book chapters and conference proceedings that have been cited over 7,500 times. 
He holds 15 patents and leads the Belfield Research Group, which is currently developing everything from light-activated cancer-fighting drugs, to probes for labeling biological samples and for advanced bioimaging, to novel lightweight high-strength polymers and plastics that can be used as artificial joints and cardiovascular implants, among other medical applications.
Belfield arrived at NJIT as CSLA Dean and Professor of Chemistry and Environmental Science in 2014, and has since assumed a leading role in student mentorship and education in chemistry, launching a number of vital initiatives and programs at the college including New Jersey's first Forensic Science degree program and the Professional Science Masters in Cell and Gene Therapy Sciences within the Department of Chemistry and Environmental Science since 2018. 
The latest honor from RSC follows several significant career achievements and honors, including being inducted into the National Commission of Cooperative Education Co-op Hall of Fame (2010), being elected a Fellow of the American Association for the Advancement of Science (2013) and being named Fellow of the American Chemical Society (2019). 
Belfield is currently involved in research funded by the National Science Foundation, the National Institutes of Health and U.S. Department of Education.
---
2nd Annual Forensic Science Summit for the Criminal Defense Bar March 22 and 23, 2022
For more information please click on the link https://drive.google.com/file/d/1IMGQtZbf7-aHD0s_mFWMn627CPRUKFP6/view
---
Department of Chemistry Forensic Science Program
On Monday, February 7, forensic science majors taking Prof Fisher's Forensic Microscopy (FRSC 480) class visited the US Customs and Border Protection (CBP) Lab located in Newark, NJ.  The Laboratories and Scientific Services is the forensic and scientific arm of US CBP, providing forensic and scientific testing in the area of trade enforcement, weapons of mass destruction, intellectual property rights, and narcotics enforcement.  US CBP Scientific Services coordinates technical and scientific support to all CBP trade and border protection activities. Students in NJIT's FRSC program learned about this unique lab as well as employment in the federal government.
---
KUDOS to the Department of Chemistry Tutoring Center!
From the desk of Dean Kevin Belfield.
I wanted to share highlights of the Chemistry tutoring center in CKB for the past two weeks (see attached photo) as conveyed to me by Dr. Bhavani Balasubramanian of the Department of Chemistry and Environmental Science. Every spot in the center has been occupied with more students than space permits on occasion.
After the Director, Dr. Balasubramanian, and her colleagues noticed that a large number of students did poorly in the second common exam (this has been observed by other departments as well) they implemented an extra credit assignment. The assignment covered all the relevant chapters for the exam and was broken into 3 separate quizzes. Students had to do the work in the presence of a tutor or an instructor and get their work checked. Attendance was recorded and it was required to obtain credit. This resulted in hundreds of students coming to the tutoring center and instructor office hours (office hours were expanding and students from any section could go to any office hour). The response has been amazing.
Students embraced this opportunity and have been spending anywhere from 4-5 hours with a tutor or instructor to complete these assignments. This afforded an opportunity to help them learn, teach them how to learn, and correct their mistakes. The tutors have been incredible and have handled the traffic admirably. We are all really proud of our tutors, UL's and the students as well and wanted to share this with you. Everyone has been going above and beyond to enable student learning and success.
Kudos to Dr. Balasubramanian and all involved.
---
Graduate Student Association Research Day, November 30, 2021
CONGRATULATIONS Indrani Gupta!
Indrani is one of our 4th year, Ph.D. student in Environmental Science. The title of her e-poster presentation: "Bacterial degradation and pure water generation by nanocarbon immobilized membranes via membrane distillation."
My research focuses on degrading microbial contaminants in water and generating high purity water via the use of nanomaterial coated polymeric membranes in a process known as membrane distillation.
---
Congratulations Dr. Hao Chen and his research group who recently received a Colgate-Palmolive Research Grant!
PhD student Pengyi Zhao (graduated in Jan 2021 from my group) won 2020 EAS (eastern analytical symposium) graduate award.

PhD student Qi Wang from my lab also won 2021 EAS graduate award.

PhD (part-time) student Joanne Chiu, won the ASMS Student Travel Award from the Delaware Valley Mass Spectrometry Discussion Group. 
---
Exciting news for the department of Chemistry Forensic Science Program!
$1.4 Million Federal Grant Launches NJIT Forensic Science Initiative
The Forensic Science Initiative (FSI) proposal builds upon our partnership with the City of Newark and Newark Board of Education by creating a new pathway that will: (1) provide additional trajectories to college for our city's youth, (2) strengthen their science preparation for highly-employable STEM fields through an intensive Forensic Science experience, and (3) support their admission to NJIT beginning September 2023 as first-year college students.
---
CONGRATULATIONS Ali Hasani!
Ali Hasani received Honorable Mention for Best Visuals in the 2021 GSA's Annual Three-Minute Research Presentation Competition, which took place on April 13. Competing students joined the challenge to describe their research to a general audience in three minutes, using only one slide as a visual aid. The goal was to communicate their research succinctly and effectively to those who are not familiar with their work or field. Ali's presentation was about processing of soot in the atmosphere and its impacts on climate. Ali's advisor is Alexei Khalizov.
---
CONGRATULATIONS, Dr. Ogochukwu Enekwizu!
Ogochukwu Enekwizu, who graduated with a PhD in Chemical Engineering under the advisement of Alexei Khalizov, will speak at the NJIT's commencement event on May 12 of 2021. Ogo was nominated to be the graduate student speaker because of her significant accomplishments, including an outstanding academic performance, innovation in research, and excellent service to the university and broader community. Her research achievements, presentations, and service have been marked by multiple awards, including the 2020 APERG award, which provided her with a $25k scholarship towards her PhD research. Currently, Ogo is a Postdoctoral Fellow in the Environmental and Climate Sciences Department at Brookhaven National Laboratory (https://www.bnl.gov/staff/oenekwizu).
---
CONGRATULATIONS, Dr. Pyong Hwa Kim!
Dr. Kim is also a Chemistry Ph.D. Graduate Spring 2021!
Dr. Pyong Hwa Kim will be joining the Laboratory of Genetics led by Dr. Michael W. Young (2017 Nobel Laureate) at Rockefeller University as a postdoctoral trainee.
Under the guidance of Dr. Yong-Ick Kim at NJIT, his graduate work focused on reconstituting the cyanobacterial circadian clock in a test tube and functionally analyzing the role of each clock protein. Upon joining the Young lab, this experience would transition into studying the clock components in Drosophila melanogaster (fruit flies). Dr. Kim wishes to understand how the mechanistic interactions of endogenous clock components "tick" with a 24-h periodicity.
---
CES Welcomes another new Faculty member in 2021
Please join us to welcome Dr. Sara Casado-Zapico our Environmental Forensic Science Faculty member.
Dr. Zapico brief bio
Sara C. Zapico received her BS in Biology and her BS in Biochemistry from the University of Oviedo, Spain, and her MS in Forensic Anthropology and Genetics from the University of Granada, Spain. She completed her PhD in Biochemistry, with a focus in biomedical sciences, at the University Institute of Oncology of Asturias, Spain. This dual background defines her current research interests and projects, exploring the application of biochemical approaches to forensic science issues, like age-at-death estimation and the determination of post-mortem interval, with implications on aging and biomedical research. Based on these interests and applications, Sara was awarded with the Peter Buck Award Postdoctoral Fellowship at Smithsonian Institution, where she is still affiliated as a research collaborator. She completed her postdoctoral training as an associate at the Forensic Unit from the International Committee of the Red Cross in Geneva, Switzerland, and with other visiting scientist positions. After that, she was appointed as an assistant teaching professor and graduate program director of the Professional Science Master's in Forensic Science at Florida International University. Sara will join the Department of Chemistry and Environmental Sciences at NJIT this Fall 2021, and she will open her Interdisciplinary Forensic and Biomedical Sciences Lab (ForenBioS). Interested students and potential collaborators, please, contact her.
---
NJIT Co-Hosts 2021 Forensic Science Summit for the Criminal Defense Bar
March 23-25, New Jersey Institute of Technology is set to join the Association of Criminal Defense Lawyers of New Jersey (ACDL-NJ) and New Jersey State Office of the Public Defender (NJOPD) in co-hosting the 2021 Forensic Science Summit for the Criminal Defense Bar.
Please click on the link to learn more! https://news.njit.edu/njit-co-hosts-2021-forensic-science-summit-crimina...
---
New Study Shows Microplastics Turn Into 'Hubs' for Pathogens, Antibiotic-Resistant Bacteria
It's estimated that an average-sized wastewater treatment plant serving roughly 400,000 residents will discharge up to 2,000,000 microplastic particles into the environment each day.
Please click on the link to learn more! https://news.njit.edu/study-shows-microplastic-waste-becomes-hubs-pathogens-antibiotic-resistant-bacteria
---
CES Welcomes 2 new Faculty members in 2021
Please join us to welcome Dr. Genoa Warner our Biological Chemistry Faculty member & Dr. Lijie Zhang our Environmental Forensic Science Faculty member.
Dr. Genoa Warner brief bio
Dr. Genoa Warner is opening her lab in the Department of Chemistry and Environmental Science at NJIT in Fall 2021 to study endocrine disrupting chemicals. She received a BS from Yale University in Chemistry and a PhD from Carnegie Mellon University in Chemistry. For her graduate work, she developed small molecule oxidative catalysts for degrading micropollutants in wastewater. She completed a postdoctoral fellowship in the Department of Comparative Biosciences at the University of Illinois at Urbana-Champaign, where she trained in reproductive toxicology. She was awarded a K99/R00 Career Transition Award from the National Institute of Environmental Health Sciences to support her research on the mechanisms of environmental chemical toxicity in the ovary. At NJIT, she will continue to study the effect of endocrine disrupting chemicals on the reproductive system using chemical biology methods.
Dr. Lijie Zhang brief bio
Lijie Zhang received her Bachelor's degree from Tsinghua University (China) in 2012 and her Ph.D. from Washington University in St. Louis in 2018, with both degrees in environmental engineering. Her doctoral research was focused on mineral-water interactions and their implications in degradation of organic compounds and transport of fluids in subsurface engineered systems, such as geological CO2 sequestration or conventional/unconventional oil/gas recovery. After that, she joined Oak Ridge National Laboratory as a postdoctoral research associate, working on transformation of mercury (Hg) at critical interfaces. She investigated the biogeochemical and mineralogical processes that control Hg speciation, microbial uptake, methylation, and demethylation in natural water and sediments. Dr. Zhang's research interests include mineral-microbe-water interactions, trace metal biogeochemistry, contaminant fate and transport, remediation, and greenhouse gas emission.
---
CES Welcomes Our New Inorganic Faculty member Dr. Michael Eberhart
Dr. Michael S. Eberhart earned his Bachelor's degree in chemistry from New Mexico State University and his Ph.D. in chemistry from Columbia University. At Columbia, he investigated structural chemistry, electron transfer, and hydride transfer reactions of copper hydride clusters, which are reagents for the selective reduction of unsaturated carbonyls. In 2016, he began a postdoctoral appointment at the University of North Carolina Chapel Hill to pursue his interest in photoinduced electron transfer reactions. There, he investigated factors that could be used to direct charge transfer processes with the objective of improving the efficiency and stability of water oxidizing photoanodes. In 2018, Michael Eberhart joined the Solar Energy Conversion group at Argonne National Laboratory where he uses synthesis, optical transient absorption spectroscopy, and synchrotron x-ray methods to investigate Copper(I) photosensitizers in confined environments. Dr. Eberhart's research interests include molecular synthesis, photoexcited state charge transfer reactions, biomimetic strategies for artificial photosynthesis, electrochemistry/electrocatalysis, and photoelectrocatalysis for solar energy conversion. Dr. Eberhart will join the Department of Chemistry and Environmental Science at the New Jersey Institute of Technology in Fall 2020. Students and other researchers interested in joining the group are encouraged to contact Dr. Eberhart.
 
---
President of the American Chemical Society visits NJIT
Professor Luis Echegoyen, President of the American Chemical Society, visited NJIT on February 5, 2020. He delivered a lecture titled Buckyball Maracas: Fullerene Nanocontainers that Stabilize Unusual Atoms and Clusters Inside. Professor Luis Echegoyen is also the Robert A. Welch Chair Professor of Chemistry at the University of Texas at El Paso. He was honored as the 2020 Organic Syntheses Distinguished Seminar Speaker and held meetings with faculty and students.
Professor Echegoyen (Center) flanked by Kevin Belfield, Dean of the College of Science and Liberal Arts and Wunmi Sadik, Chair of the Department of Chemistry and Environmental Science.
---
Dr. Kevin Parmelee: Crime Scene Investigation - FRSC 307-101
On Tuesday, September 10, 2019, students from Dr. Kevin Parmelee's Crime Scene Investigation course (FRSC 307) visited the Somerset County Prosecutor's Office Forensic Laboratory. The building also houses the Crime Scene Investigation Unit which uses the most current technology and equipment to gather physical evidence from crime scenes. The CSI Unit responds to the scene of major crimes and is responsible for crime scene examination, preparation of scene diagrams, photography, and evidence collection. The Forensic Laboratory has the capability to analyze or compare fingerprints, impression evidence, firearms & ammunition, tool marks, and more.  Dr. Parmelee, who is also a Detective with the agency, explains to students some of the past cases his office has worked on (photo #2), how the ballistics laboratory retrieves bullets from a cotton box (photo #3) and water tank (photo #4) after test-firing a firearm. The students were also able to see the CSI Unit's Mobile Forensic Lab which can respond to crime scenes (photo #5).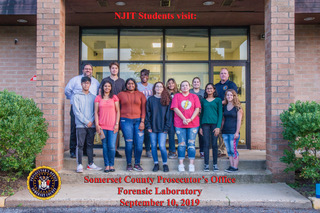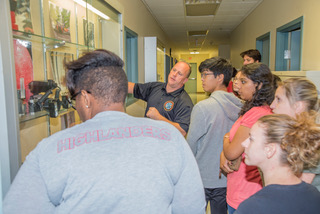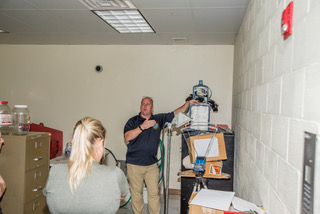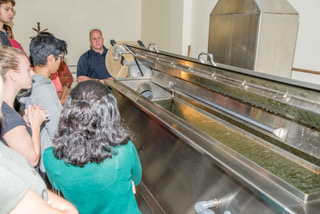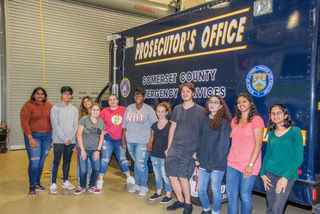 Dr. Mengyan Li, Assistant Professor
Dr. Mengyan Li's team received a four-year grant from USDA to sponsor their research on the molecular mechanisms and ecological impacts of antibiotic resistance in crop agriculture. The team will focus on the soil and plant microorganisms that live symbiotically with crops. This study will greatly advance our fundamental understanding of the antibiotic biotransformation and antibiotic resistance transfer processes and provide tangible management guidance to promote green agriculture. In addition to the scientific communities, outcomes of this project will benefit a broader range of communities, particularly farmers and consumers with concerns of antibiotics and antibiotic resistance issues.