CES Welcomes Our New Inorganic Faculty Member Dr. Michael Eberhart
Michael S. Eberhart earned his Bachelor's degree in chemistry from New Mexico State University and his Ph.D. in chemistry from Columbia University. At Columbia, he investigated structural chemistry, electron transfer, and hydride transfer reactions of copper hydride clusters, which are reagents for the selective reduction of unsaturated carbonyls. In 2016, he began a postdoctoral appointment at the University of North Carolina Chapel Hill to pursue his interest in photoinduced electron transfer reactions. There, he investigated factors that could be used to direct charge transfer processes with the objective of improving the efficiency and stability of water oxidizing photoanodes. In 2018, Michael Eberhart joined the Solar Energy Conversion group at Argonne National Laboratory where he uses synthesis, optical transient absorption spectroscopy, and synchrotron x-ray methods to investigate Copper(I) photosensitizers in confined environments. Dr. Eberhart's research interests include molecular synthesis, photoexcited state charge transfer reactions, biomimetic strategies for artificial photosynthesis, electrochemistry/electrocatalysis, and photoelectrocatalysis for solar energy conversion. Dr. Eberhart will join the Department of Chemistry and Environmental Science at the New Jersey Institute of Technology in Fall 2020. Students and other researchers interested in joining the group are encouraged to contact Dr. Eberhart.
 
---
President of the American Chemical Society visits NJIT
Professor Luis Echegoyen, President of the American Chemical Society, visited NJIT on February 5, 2020. He delivered a lecture titled Buckyball Maracas: Fullerene Nanocontainers that Stabilize Unusual Atoms and Clusters Inside. Professor Luis Echegoyen is also the Robert A. Welch Chair Professor of Chemistry at the University of Texas at El Paso. He was honored as the 2020 Organic Syntheses Distinguished Seminar Speaker and held meetings with faculty and students.
Professor Echegoyen (Center) flanked by Kevin Belfield, Dean of the College of Science and Liberal Arts and Wunmi Sadik, Chair of the Department of Chemistry and Environmental Science.
---
Dr. Kevin Parmelee: Crime Scene Investigation - FRSC 307-101
On Tuesday, September 10, 2019, students from Dr. Kevin Parmelee's Crime Scene Investigation course (FRSC 307) visited the Somerset County Prosecutor's Office Forensic Laboratory. The building also houses the Crime Scene Investigation Unit which uses the most current technology and equipment to gather physical evidence from crime scenes. The CSI Unit responds to the scene of major crimes and is responsible for crime scene examination, preparation of scene diagrams, photography, and evidence collection. The Forensic Laboratory has the capability to analyze or compare fingerprints, impression evidence, firearms & ammunition, tool marks, and more.  Dr. Parmelee, who is also a Detective with the agency, explains to students some of the past cases his office has worked on (photo #2), how the ballistics laboratory retrieves bullets from a cotton box (photo #3) and water tank (photo #4) after test-firing a firearm. The students were also able to see the CSI Unit's Mobile Forensic Lab which can respond to crime scenes (photo #5).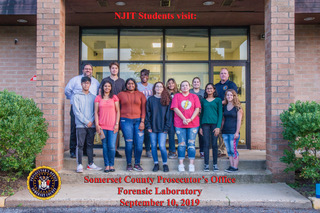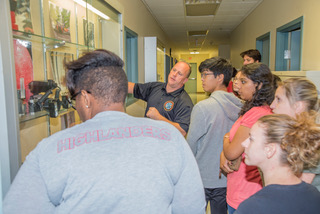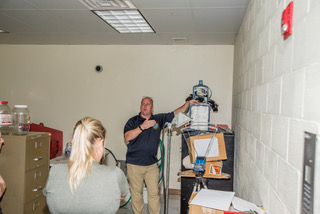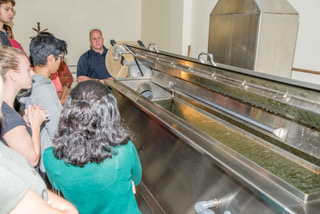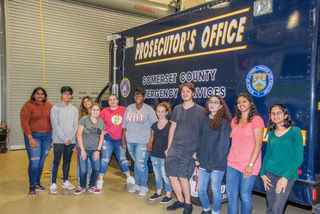 Dr. Mengyan Li, Assistant Professor
Dr. Mengyan Li's team received a four-year grant from USDA to sponsor their research on the molecular mechanisms and ecological impacts of antibiotic resistance in crop agriculture. The team will focus on the soil and plant microorganisms that live symbiotically with crops. This study will greatly advance our fundamental understanding of the antibiotic biotransformation and antibiotic resistance transfer processes and provide tangible management guidance to promote green agriculture. In addition to the scientific communities, outcomes of this project will benefit a broader range of communities, particularly farmers and consumers with concerns of antibiotics and antibiotic resistance issues.